What is a dipper?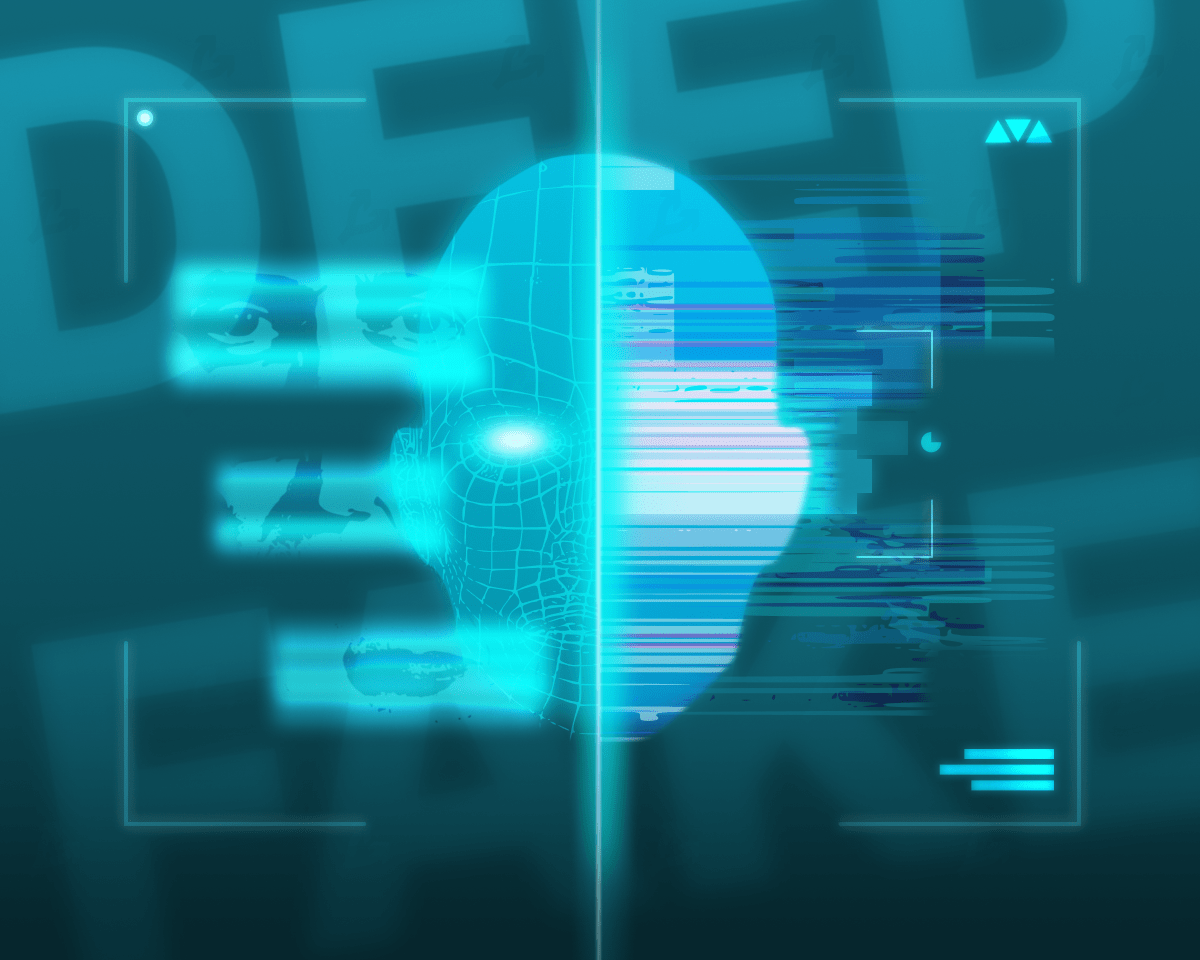 Dipfack is a technology for synthesizing media dummies, on which a person's face in existing photos or videos is replaced by the face of another person. In the manufacture of fakes, methods of artificial intelligence, machine learning and neural networks are used.
The name of the technology comes from a combination of English terms Deep Learning (deep training) and fake (fake).
Why are dipfaces created?
Many of the created dipfaces are pornographic. By the end of 2020, Sensity discovered 85,000 fakes created using AI methods on the Internet. 93% of the materials were pornographic, the vast majority of which depict the faces of famous women.
New methods allow unqualified people to make diphs using several photos. According to experts, the number of such content doubles every six months. Probably, fake videos are extending beyond the world of celebrities to nourish the porn.
Dipfaces are also used for information attacks, creating parodies and satire.
In 2018, American director Jordan drank and Buzzfeed published allegedly the appeal of the former US President Barack Obama, in which he called Donald Trump "asshole". The video was created using the FaceApp app and the ADOBE AFTER EFFects graphic editor. The director and journalists wanted to demonstrate how fake news might look in the future.
In 2022, after a full -scale invasion of Russia, fake videos of President Vladimir Zelensky spread to Ukraine, in which the head of state "calls on the people to surrender". Users quickly determined the fake, and Zelensky himself recorded a refutation.
In May of the same year, scammers distributed the dipfaces Ilona Mask, in which he "calls to invest" in an obvious scam. The published video of the YouTube channel had over 100,000 subscribers, and before deleting the account, the video was watched over 90,000 times. How many people led to scams is unknown.
For entertainment, there are many applications that create diplomas. At the beginning of 2020, the Reface application was widely known to use the dipfect technology to create short videos with literally any face on a wide spectrum of video and gif animation.
What can be faked?
Dipfake technology can create not only convincing videos, but also completely fictional photos from scratch. In 2019, a certain Mazi Kinsley started profiles in LinkedIn and Twitter, in which she called the Bloomberg journalist. The "journalist" was associated with Tesla employees and poured various information.
Later it turned out that this was a dipteum. The social networks did not contain any convincing facts connecting it with the publication, and the profile photograph was clearly generated by artificial intelligence.
In 2021, Forklog Hub conducted an experiment by creating a virtual character n. G. Adamchuk, who "wrote" for the platform "Reasoning about the market" of cryptocurrencies. The texts were generated using the large language model GPT-2. Avatar was created by the This Person Does Not Exist service.
Audio can also be falsified to create "voice clones" of public faces. In January 2020, fraudsters in the UAE forged the voice of the head of a large company and convinced a bank employee to transfer $ 35 million to their accounts.
A similar incident occurred in 2019 with a British energy company. Fraudsters managed to steal about $ 243,000, posing as the director of the company using a fake voice.
How dipfaces are created?
To create dipfaces you need a large set of these faces of two people. Dataset is analyzed by the and coder, which finds similarities between them and compresses the images.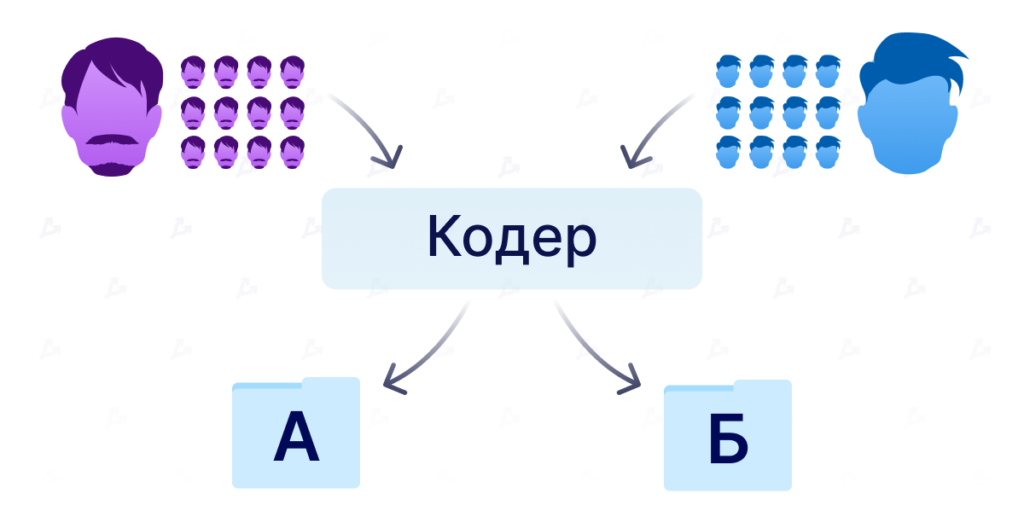 Then the decoder is taught to restore faces from compressed frames. For each person, a separate algorithm is used. To change their faces, it is necessary to load the compressed data into the "wrong" decoder.
For example, images of man and are fed to a decoder trained on a person b. The algorithm reconstructs the face of a person with facial expression a.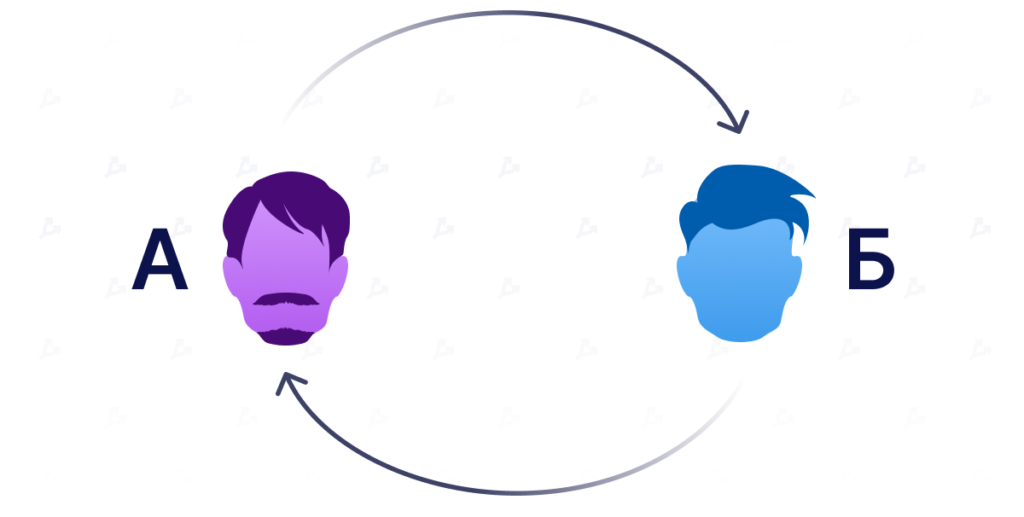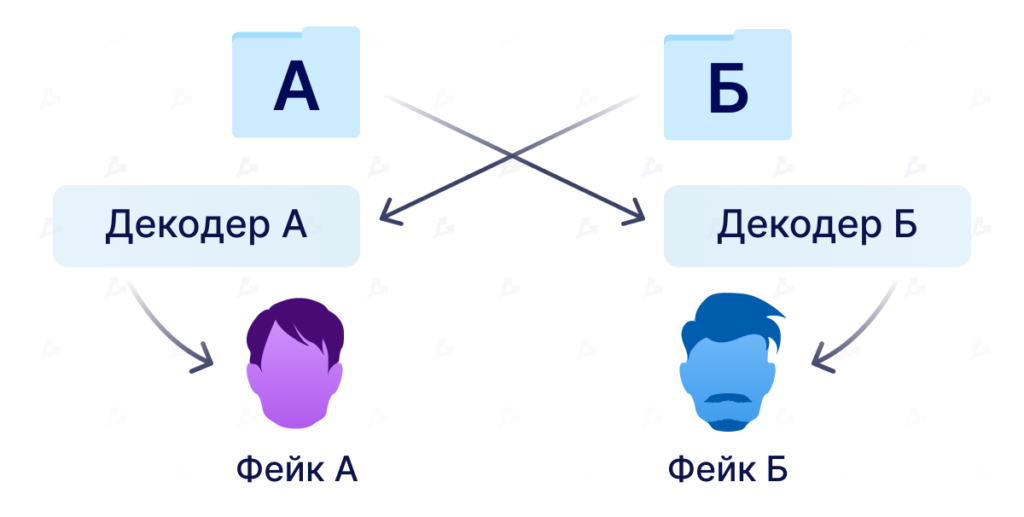 To obtain a qualitative result for the video, the algorithm must thus process each frame.
Another way of creating dipfaces is the use of generative and consistent neural networks (GAN). A similar method is used in services like This Person Does Not Exist.
Who creates dipfaces?
Dipfaces can be created by academic and commercial researchers, machine learning engineers, amateur enthusiasts, visual effects studio and directors. Also, thanks to popular applications like Reface or FaceApp, any smartphone owner can take a fake picture or video.
Governments can also use technology, for example, within the framework of their online strategies to discredit and undermine extremist groups or establish contacts with targets.
In 2019, journalists discovered a profile of a certain Katie Jones in LinkedIn, which turned out to be a dipper. Then the US National Center for Counterintelligence and Security reported that foreign spies regularly use fake profiles in social networks to monitor American purposes. In particular, the department accused China of conducting "mass" espionage through Linkedin.
In 2022, South Korean engineers created a diplay of a presidential candidate Yun Sok Yelya to attract young voters on the eve of the elections on March 9, 2022.
What technologies are used in the manufacture of dipfaces?
Most fakes are created on high -performance desktop computers with powerful video cards or in the cloud. Experience is also required, not least to correct the finished videos and eliminate visual defects.
However, now many tools are available that help people make diphs both in the cloud and right on the smartphone. You can add ZAO to the aforementioned Reface and FaceApp, which imposes the faces of users on films and television characters.
How to recognize a dipper?
In most cases, fake photos and videos of low quality. You can recognize the dipteum by non -naughty eyes, poor synchronization of speech and lips, spotted skin tone. At the edges of the transposed faces, flickering and pixelization can be observed. Small details like hair are especially difficult to draw high -quality.
Poorly transferred jewelry and teeth can also indicate a The realm of GameFi fake. Attention should be paid to inconsistent lighting, as well as reflection on the rainbow shell of the eyes.
Large technological corporations are fighting against dipfaces. In April 2022, Adobe, Microsoft, Intel, Twitter, Sony, Nikon, BBC and ARM united in the C2PA alliance to detect fake photos and videos on the Internet.
In 2020, on the eve of the US election, Facebook banned dipteum videos that can mislead users.
In May 2022, Google limited the ability to train models for creating dipfaces in the cloud environment of Colab.
What is the danger of dipfaces?
In addition to misinformation, persecution, intimidation and humiliation, dipfaces can undermine the confidence of society in specific events.
According to the professor and expert in the field of Internet right, Newcasl Lilian Edwards, the problem is not so much in fakes as in the denial of real facts.
As the technology spreads, dipfaces can pose a threat to justice, where falsified events can be issued for real.
They also pose a threat to personal security. Dipfaces are already able to imitate biometric data and deceive persons recognition systems, voice or gait.
Than the diphes can be useful?
In addition to threats, dipfaces may turn out to be useful. Technology is actively used for entertainment purposes. For example, the London startup Flawless has developed artificial intelligence for synchronizing the lips of the actors and the sound path when duplicating films in different languages.
In July 2021, the authors of a documentary about the famous chef Anthony Burudne, who died in 2018, used a dipfacing to voice his quotes.
In addition, technology can help people return the voice lost due to illness.
Dipfaces are also used to create synthetic data sets. This eliminates engineers from the need to collect photographs of real people and get permission to use them.
Subscribe to FORKLOG news at Telegram: Forklog AI – all news from the world of AI!